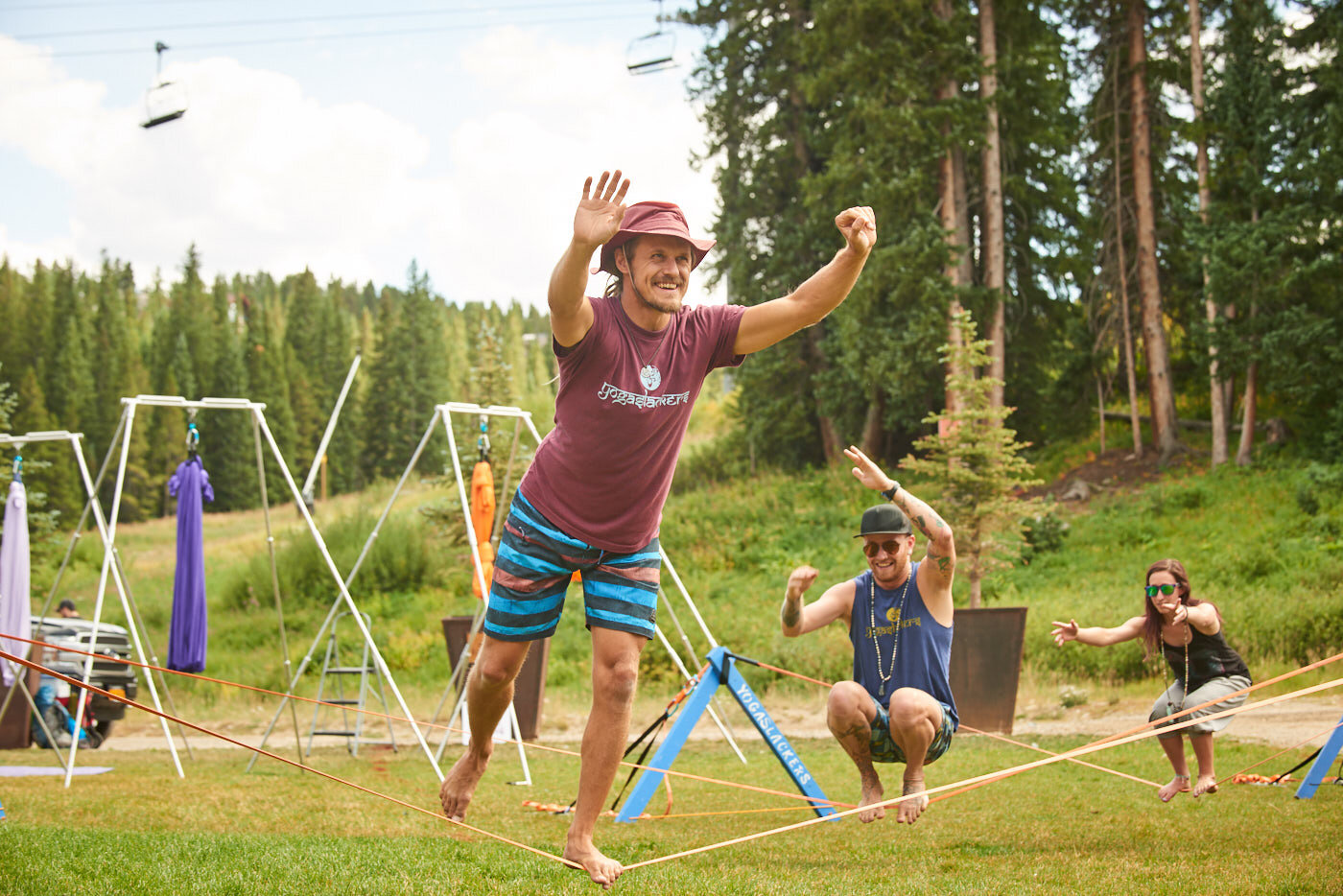 We are so incredibly lucky to have an incredible town to offer Breckenridge Yoga Festival. Located in the Rocky Mountains of Summit County, Breckenridge is one of Colorado's most iconic resorts. The first major ski resort in North America to allow snowboarding, Breckenridge has always had a reputation for forward thinking. The town has become a year-round playground with a large art district presence, a generous speckling of Gold Rush history and cultural heritage, and world-class hiking and mountain biking trails. More than just a ski-area, Breckenridge is on the vanguard of diverse family fun. As Go Breck says, "We're an up for everything kinda town".

Meta Yoga Studios, the oldest dedicated yoga studio in Summit County, has teamed up with Beaver Run Resort + Conference Center to host the Breckenridge Yoga Festival. All events will take place in and around Beaver Run where you will practice with incredible mountain views from the Coppertop II + III Meeting Rooms, Imperial Ballroom, Coppertop Deck and the Slopeside Lawn. See here! Vendors will be available both inside in closely hallways to the meeting rooms and outside on the Mountain View Deck.
Lodging
Breckenridge Yoga Festival has partnered with Beaver Run Resort + Conference Center for discounted lodging.
Let Beaver Run be your home base during your Labor Day weekend. The location keeps you close to the festival, giving you quick access to all BYF classes and close to downtown Breckenridge.
Discounted rooms are available starting at $115/night for a (4) person unit. That means you could be staying on site for the Breckenridge Yoga Festival over Labor Day Weekend with three of your friends for under $100 each!
Special pricing dates: August 30 - September 12, 2020
EAT + DRINK
Being a year-round destination, Breckenridge has a wide variety of spots open to keep you fueled during your weekend. Here are some of favorites that can either help you stay on-site at Beaver Run or give you the opportunity to stroll down Main Street and beyond while attending Breckenridge Yoga Festival.
Transportation
AT HOTEL
Guests staying at Beaver Run will be provided with on-site parking. Breckenridge Yoga Festival participants who are not staying at Beaver Run can park on-site through the town pair parking system in the Beaver Run Lot. It is recommended that you download the parking app prior to arrival in order to find more ease in the process.

AROUND BRECKENRIDGE
There are also several free parking locations throughout Breckenridge. Always check signs before parking. The town does offer overnight parking at the Ice Arena and Satellite Lots for a nominal fee.

FREE RIDE BUS
No matter where you park, you can check out all of town through the Free Ride bus system.
all the details
Frequently Asked Questions
What is the Refund Policy?
All sales to Breckenridge Yoga Festival are final. No refunds, exchanges or reissues for lost or stolen credentials. If you are unable to attend Breckenridge Yoga Festival, you may transfer your pass for another person to attend by emailing us at info@metayogastudios.com
How Do I Register For Classes?
After you purchase your Breckenridge Yoga Festival pass, you can begin to map out your weekend. You must have a MindBody account in order to sign up for classes, which you will be prompted to create when buying your ticket. CLICK HERE to download the MindBody app for the easiest way to keep track of your schedule. Find Meta Yoga Studios in Breckenridge, Colorado and find "VIEW PRICING". Then choose "Breckenridge Yoga Festival" and begin to book your classes.
Can I Change My Schedule After Registering?
Yes! Classes are open on a space-available basis. First, un-register from classes you are no longer desiring to attend and then register for classes you'd like to change to. There is no charge to change your schedule.
Where Do I Check In Upon Arrival for Breckenridge Yoga Festival?
A registration booth will be located inside the lobby at Beaver Run. Please bring your photo ID with you. Registration Hours will be: Friday 3pm - 8pm Saturday 7am - 4pm Sunday 7am - 10am
Do I Need to Be Careful About How Loud I am?
We definitely want you to have fun, but please be mindful when you are near an active class so as not to disturb the experience of others.
Where do I Place My Mat in the Indoor Classes?
There will be markers on the floors to show you where to place your mat, creating rows. Please only have necessary items near you as some class will be tight!
Should I Take My Shoes Off?
For the indoor classes, we will ask that you leave your shoes outside in the hallway. Outdoor classes will vary and you will receive instruction upon arrival.
What About Cell Phones?
Oh man. You know that moment you just got into your zen and someone left their ringer on and then your zen slips away? Let's avoid this by turning your phones off or onto silent during class.
Can I Take Photos, Videos or Audio?
Please limit the taking of photos to before and after class while also respecting the privacy and expereience of those around you. We would recommend that you also respect each presenters' intellectual property by refraining from video or audio recordings during classes.
Is It Okay If I Show Up Late for Class?
The doors for each class will close 5 minutes after class starts. Be on time to make it in!
What Should I Bring?
Your Photo ID.
Layered Clothing (weather can change quickly in the mountains and you will not regret bringing along that outer-layer!).
Water Bottle
Yoga Mat + Favorite Compact Props
Sun Protection
Camera (video and audio recording not allowed during classes)
Small Bag to transport all your items.
Carefully check class descriptions as some courses have recommendations of additional props that will help you to enjoy class more fully. BYF does not provide any props.
Your BFF! (if your BFF is a dog, know that they will not be allowed in any indoor classes)
Is This a Family Friendly Event?
Yes! We encourage the attendance of spouses, partners and teens (we even have special pricing for kids 13 - 17 years old). Children under 13 years old will likely have more fun playing around Breckenridge with another adult. You can still get the discount lodging pricing at Beaver Run for the whole family and then divide and conquer the town!
Can I Bring My Dog?
Absolutely. Beaver Run has rooms that are pet friendly that you are able to stay in for people staying on-site. We do encourage you to have awareness on how friendly your dog is in public and make your best judgement. Dogs will not be allow in any indoor classes.